Implementation of the software
Hexfit must be an investment for your business. That's why the implementation fees adjust to your needs.
How we calculate the fees
Hexfit's implementation costs are based on the reality of your organization. Depending on your needs, we have a startup package that will allow you to fully use the software by saving the setup time. It is important to know that we offer free support and training to all our users at all times so that they can get the most out of the software.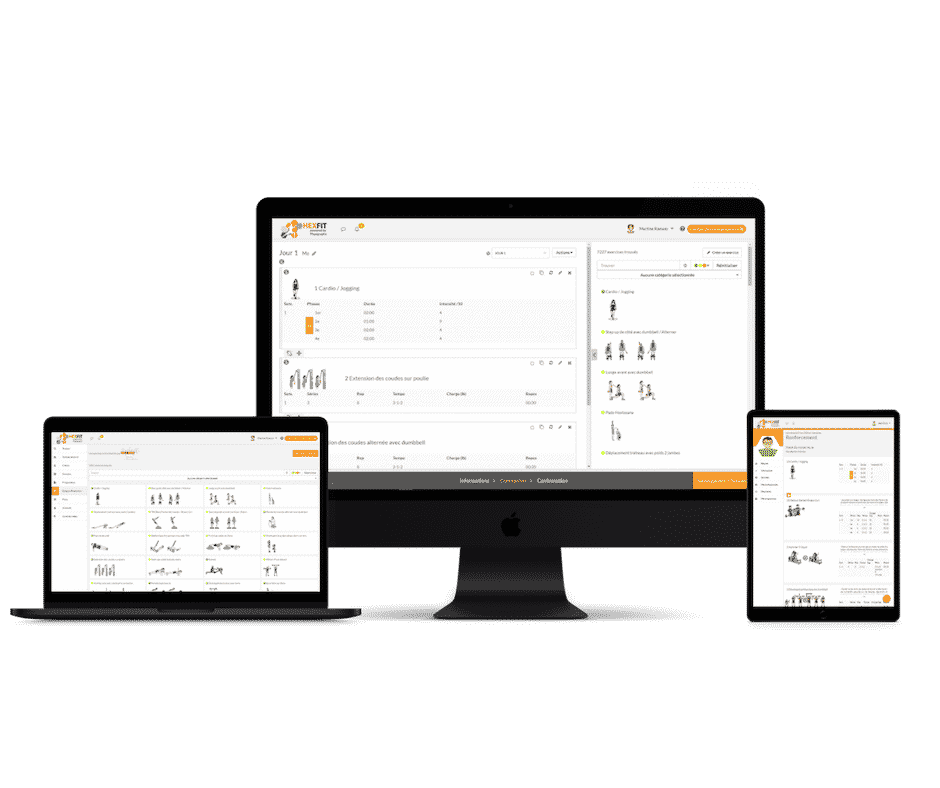 0
Configuration du logo

Formations

Configuration des préférences
149
Configuration du logo

Formations

Configuration des préférences

Création de document*

Importation des clients 
* Maximum 3 documents pour 10 pages totales
279
Configuration du logo

Formations

Configuration des préférences

Importation des clients

Création des profils d'accès

Configuration des interconnexions
* Maximum 7 documents pour 30 pages totales
Vous avez d'autres besoins ?
Contactez-nous
Vous avez besoin d'importer d'autres données ou de connecter votre logiciel maison ?

Entrez en communication avec nous afin que l'on vous aide avec cela.

Nous pourrons ainsi vous présenter les frais d'implantation adaptés à votre situation.
0
Logo configuration

Formations

Setting preferences
149
Logo configuration

Formations

Setting preferences

Document creation *

Importing customers*
* Maximum of 3 documents for 10 total pages
279
Logo configuration

Formations

Setting preferences

Importing customers

Creating acces profiles

Configuration of interconnections
* Maximum of 7 documents for 30 total pages 
YOU HAVE OTHER NEEDS?
CONTACT US
Need to import more data or connect your home software?
Get in touch with us so we can help you with that.
We will be able to present to you the installation costs adapted to your situation.
The help of our Hexperts is always at hand
Training & in-app chat
We are well aware that the integration of a new work tool requires some handling. That's why we offer free training with our Hexperts, to ensure that you maximize your use of Hexfit from the first weeks!
Online Help
Looking for answers to a specific question in Hexfit, but you prefer to do your own research? Hexfit online help is specifically designed for this situation! You will easily find a large amount of very specific information about the different actions in the software.
Online Academy
The Academy is an online self-training tool built into Hexfit that is extremely useful for learning to master the basics of the software, while having the ability to go at your own pace.
Great customer service that helps me to adapt as much as possible to the software despite my particular needs of my clientele "out of the ordinary"
Hexfit is HOT. Hexfit is the future of Sports Clubs, Sports-Studies and School Programs. The platform is super powerful, it allows to keep the focus on the training plan. I highly recommend Hexfit.
AWESOME ! Training periodization software for the desired number of weeks - Custom program creation - Possibility to create our own exercises in the software for more customization - Creation of physical evaluations - Sharing of documents - Thank you HEXFIT! When we learn the software, we become so fast that our work of evaluation-planning-creation-adjustments is facilitated. ⭐️????♀️?♂️??
Request a customized demo just for you!