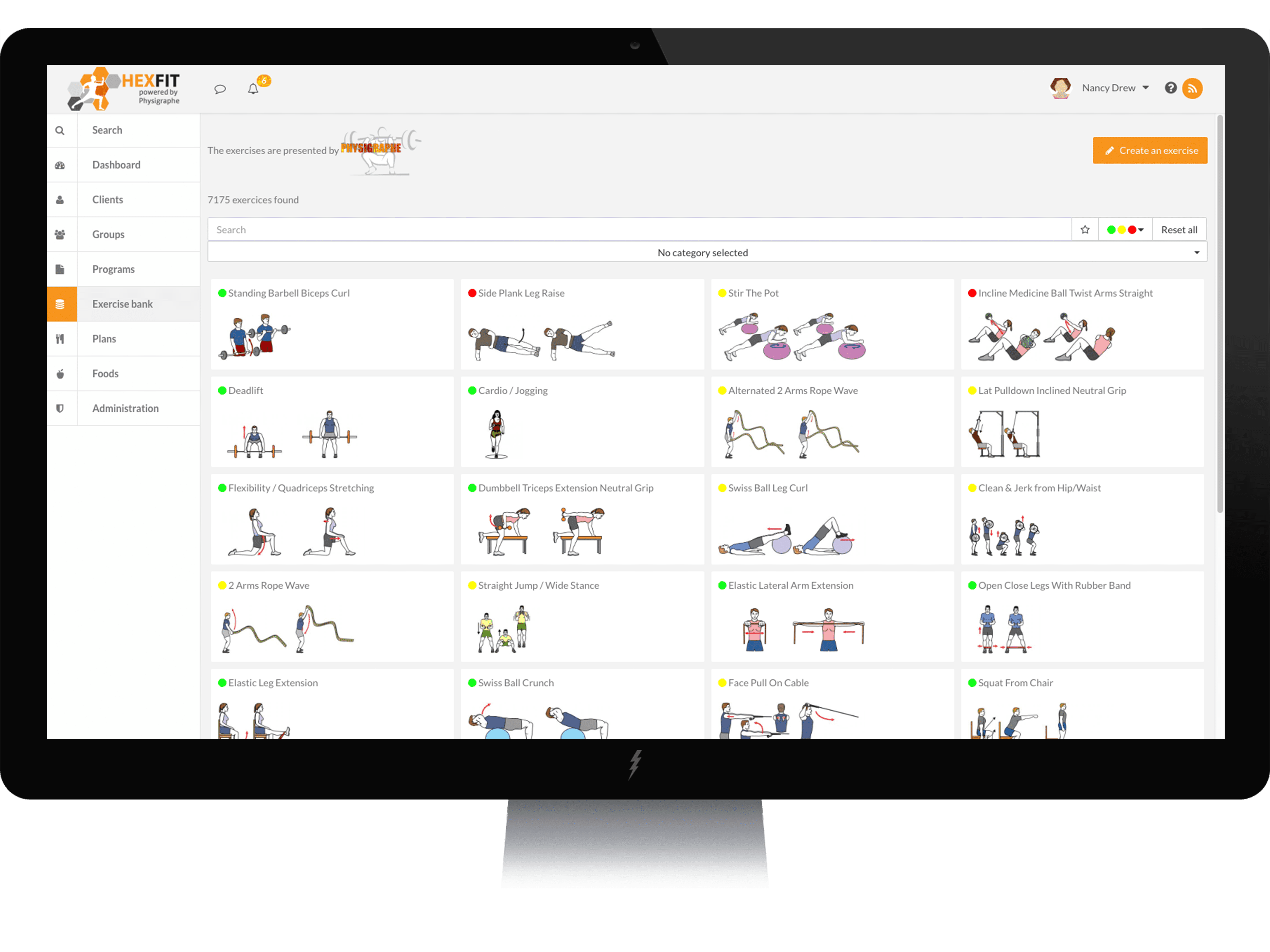 Adapted Exercise Bank
Access the most complete exercise bank by
Physigraphe
The library of more than 7000 exercises of Physigraphe is extremely varied and includes professional images, in addition to animations and detailed instructions of execution of the movement. Find quickly and easily the specific exercises you are looking for, thanks to an advanced intelligent search engine! 
Therapeutic
Cardio
Plyometric
Flexibility
Strengthening
Crossfit
Weightlifting
Yoga
And much more
Request a customized demo just for you!
You Have a Specific Status?
We have funtionalities adapted to each situation!
Fitness Center
Give your customers unparalleled services by integrating a powerful and professional tool !
Educational Institution
Provide exceptional quality teachings to your students by integrating Hexfit into their academic journey!
Student
Start using a professional software during your studies in order to be well equipped at the end of your schooling!
Sports team
Give unparalleled coaching to your athletes and unlock the full potential of your team!
What They're Saying
Customer Testimonials
Best part of Hexfit I liked is its exercise library. Easy to navigate, easy to keep tack on Volume load.
Kaustub
Great software! Have tried so many but this one is the one that is the most complete and affordable. Thank you!
Libera
I love it !! Super simple to use, super practical! 10/10!! Service on point!
J-F
Hexfit saves you an average of 3.5 hours* per week!
Only 15 minutes/week would be necessary to have it pay for itself.
Hexfit offers many pricing options to fit your reality. Therefore, when you sign up for free, you have the chance to test our different features and see the prices associated with them.
Aucun engagement nécessaire