The Most Complete Software for Physiotherapists!
Hexfit is an interprofessional software offering all the necessary tools to support you in the care of your patients. It has been developed for physiotherapists and includes a set of features that accompanies you daily in your specific tasks.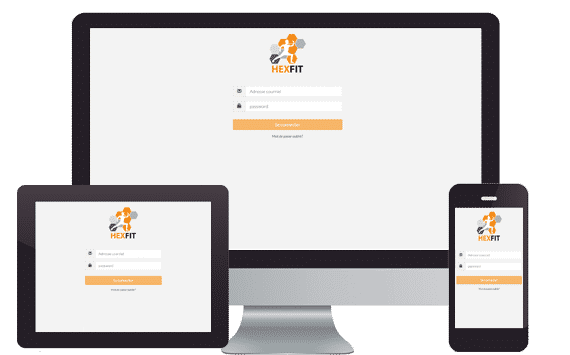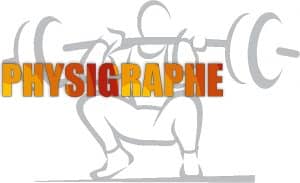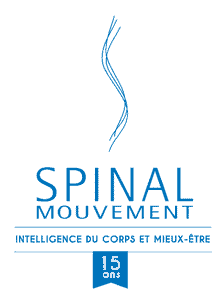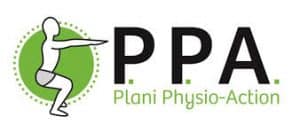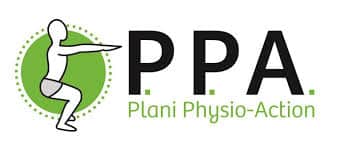 Dedicated Functionalities for Kinesiologists
Enjoy the Physigraphe Module
We developp a module for each profession, allowing a personalisation of the software according to your specific needs.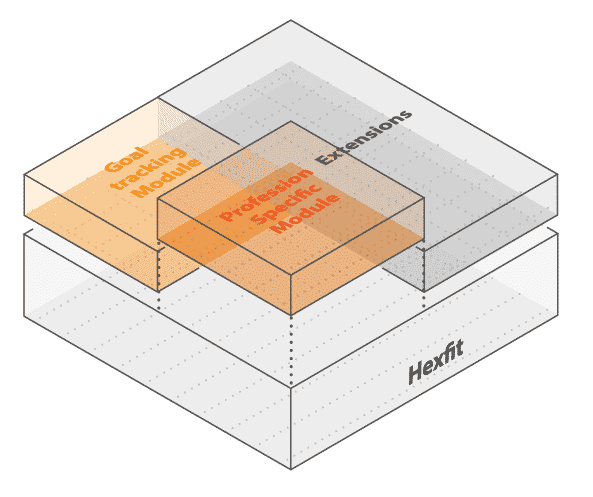 Prescription of Training Programs
A creative tool that is both powerful and flexible
Hexfit includes an extremely comprehensive and flexible program creation module. No matter what training techniques you use:
Circuit trainings

Super sets

Pyramid training

Increasing or decreasing sets

Complex interval training

And many more!
Moreover, we have added more than 700 rehabilitation exercises that are dedicated to physiotherapists. You will be able to create more accurate and comprehensive programs for your customers. You can design your clients' workout as you wish, while saving a huge amount of time!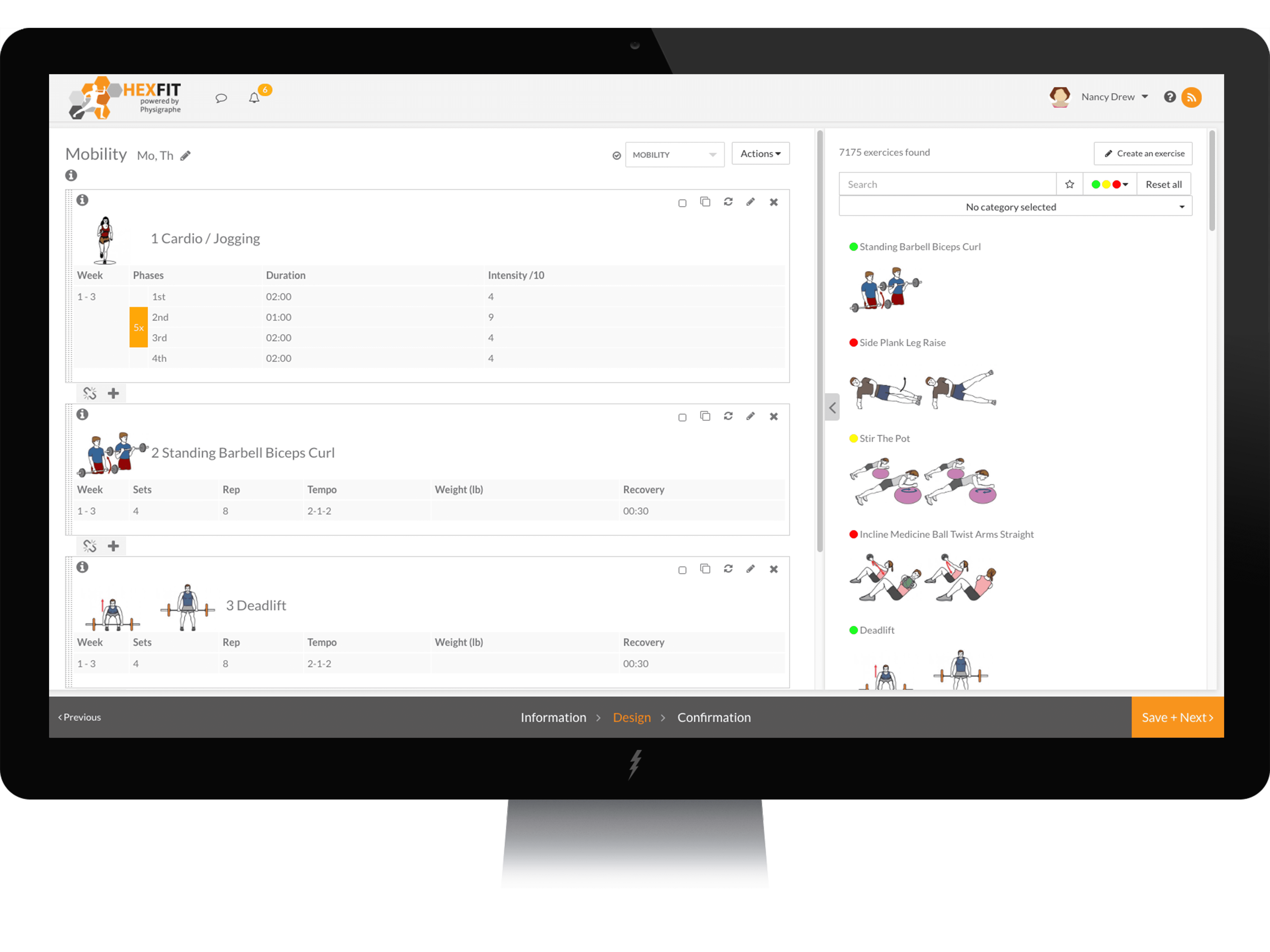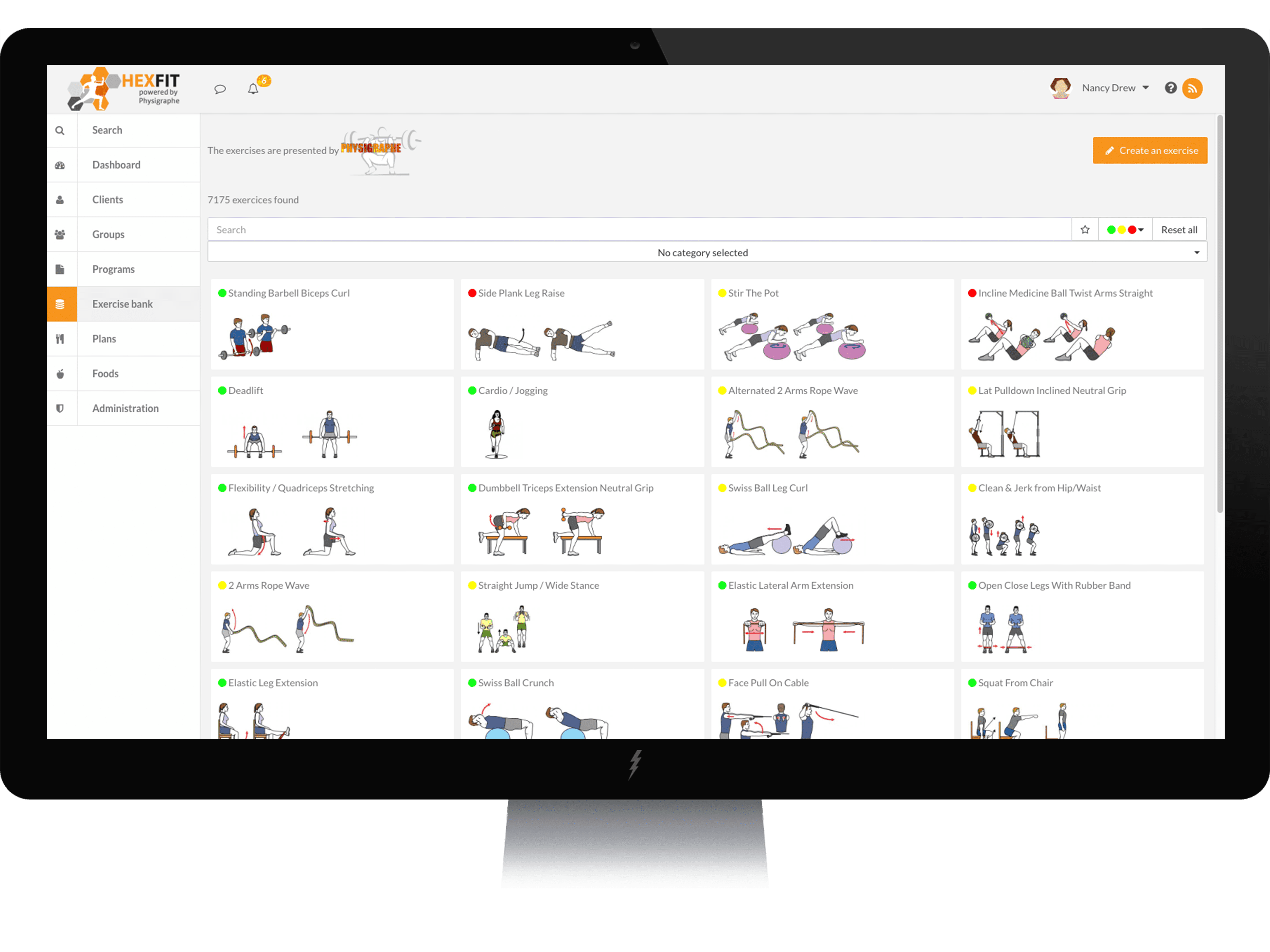 Adapted Exercise Bank
Access the most complete exercise bank by
Physigraphe
The library of more than 8400 exercises of Physigraphe is extremely varied and includes professional images, in addition to animations and detailed instructions of execution of the movement. Find quickly and easily the specific exercises you are looking for, thanks to an advanced intelligent search engine!
Therapeutic
Cardio
Plyometric
Flexibility
Strengthening
Crossfit
Weightlifting
Yoga
And much more
Client Tracking
Offer to your clients unparalleled coaching with progress reports
Hexfit gives you the opportunity to see the details of each of the training sessions performed by your clients. You even have access to feedback for a peculiar session. Take your client tracking even further with Hexfit's automatically generated workout progress charts.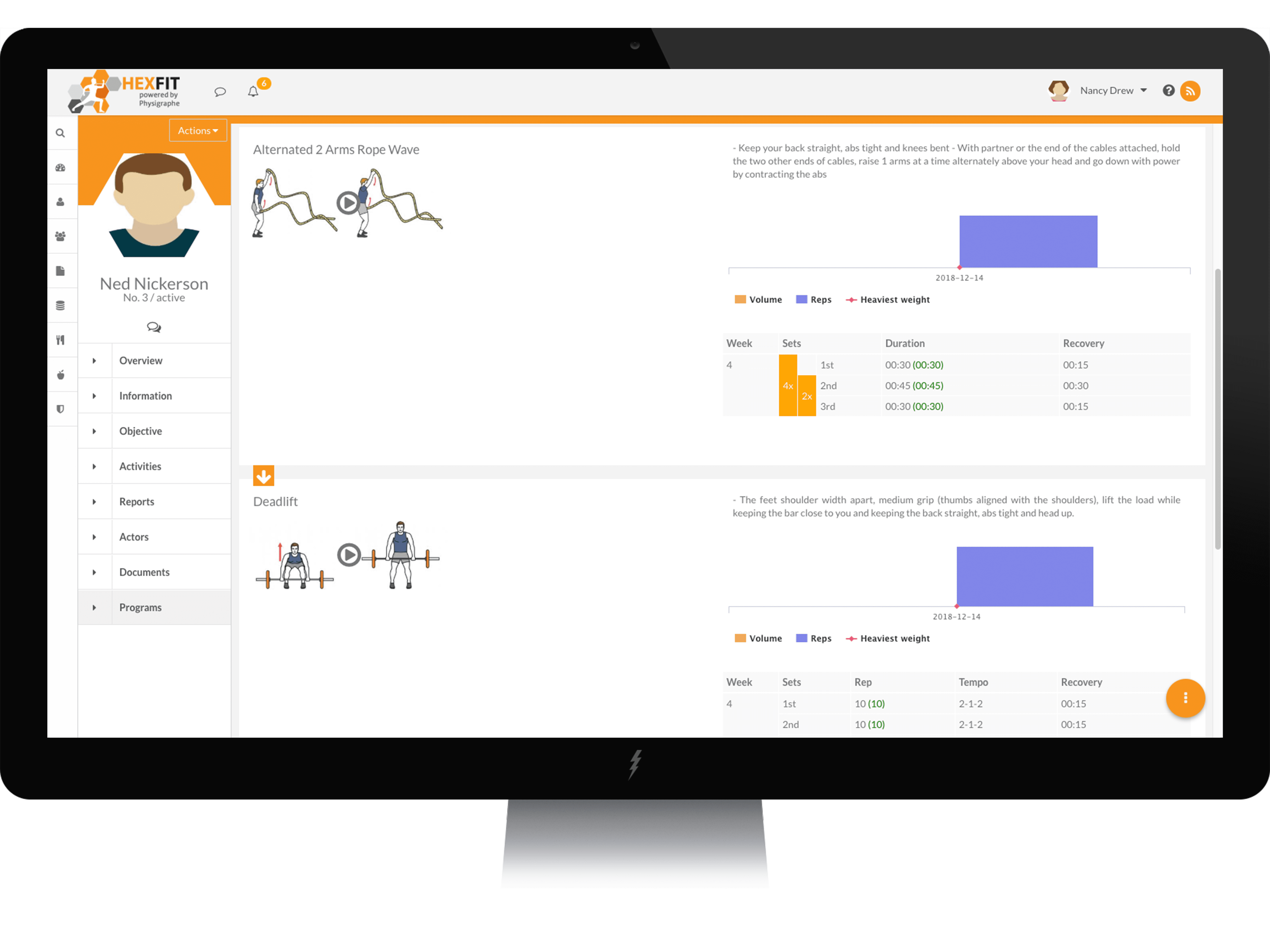 Enjoy a custom demo
Increase your profitability and efficiency simply
Thanks to the demo or the free trial, you can determine without commitment how the software meets your needs.
All the Functionalities of Hexfit
Goal Tracking Module
The heart of the software, common to all professions, is dedicated to analysis and communication. This will help you lead your clients to the achievement of their objectives.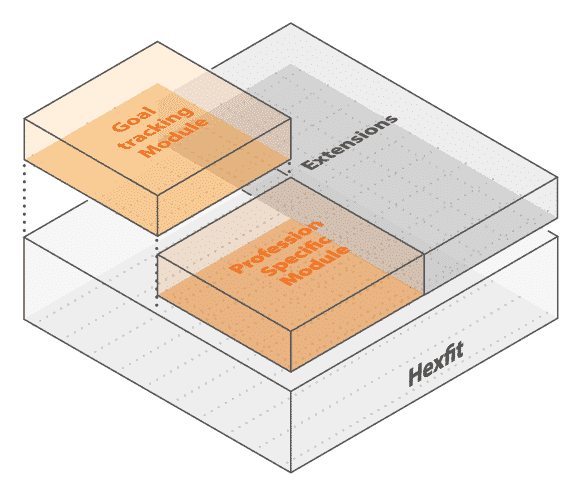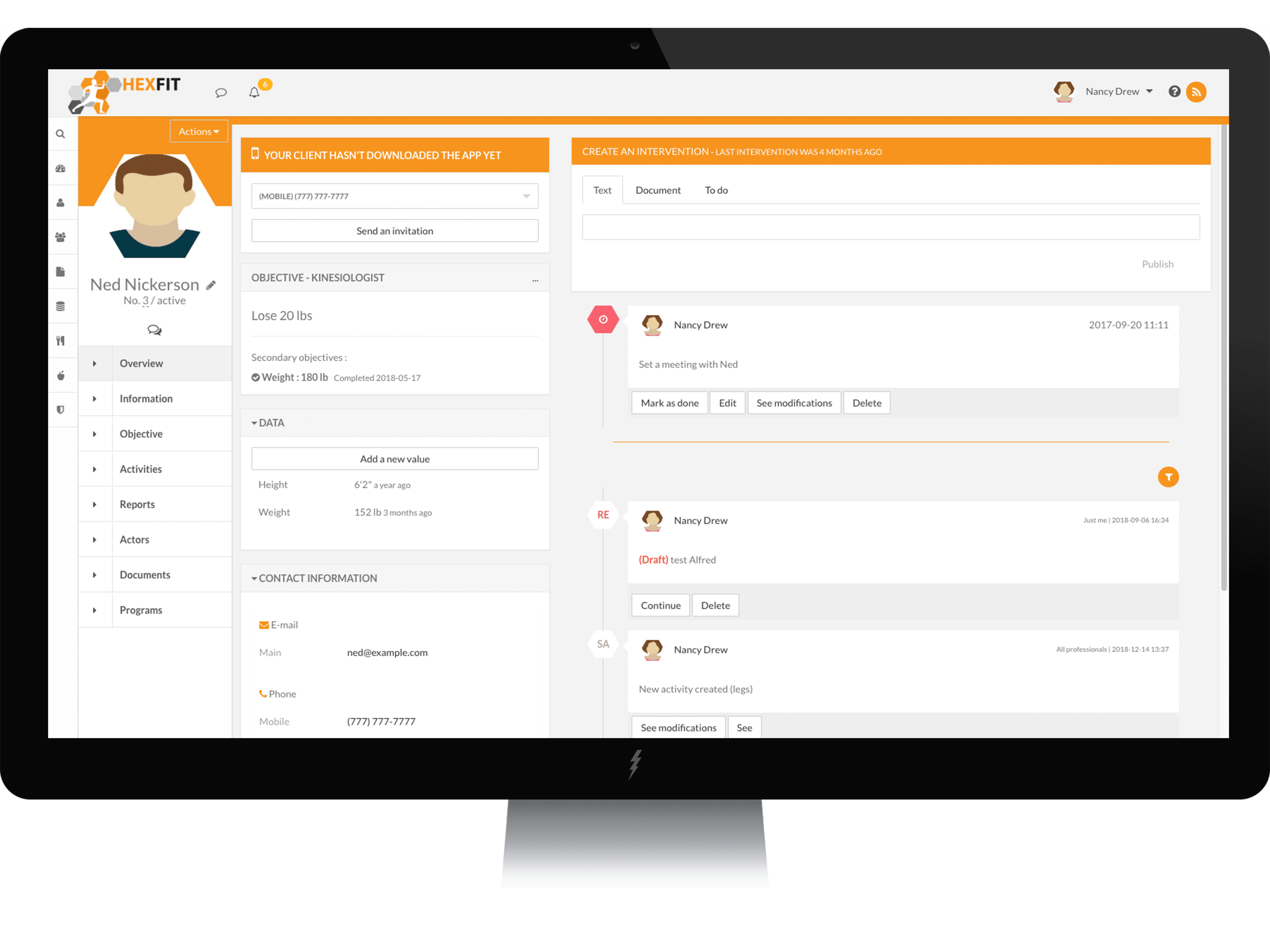 File Management
Take full control of your practice by building a complete and professional client file
Gather and manage all the information needed for high quality monitoring in one place easily accessible from anywhere and with ease. Our software brings together a wide variety of information about your client that will allow you to them services of a very high quality, by building a comprehensive file... Among this information, find:
Medical and allergies information

History of injuries

Specific notes

Activity calendar

History of interventions

SMART objectives

Documents dropbox
Physical Evaluations
Complete all of your tests easily in Hexfit
Create your custom physical tests online. Once created, complete your evaluations directly in Hexfit and let the software calculate your results and transfer them to the client's file for analysis.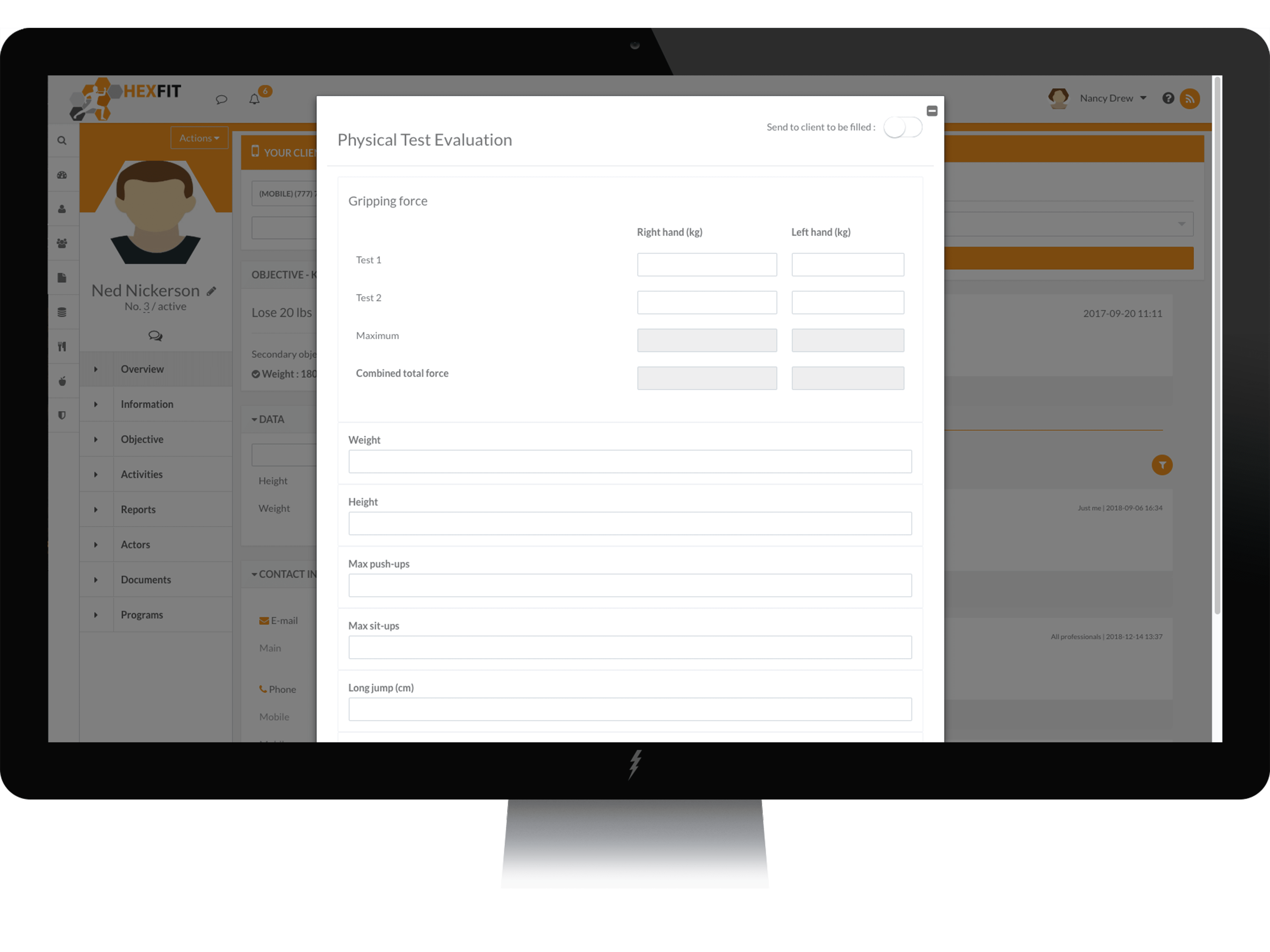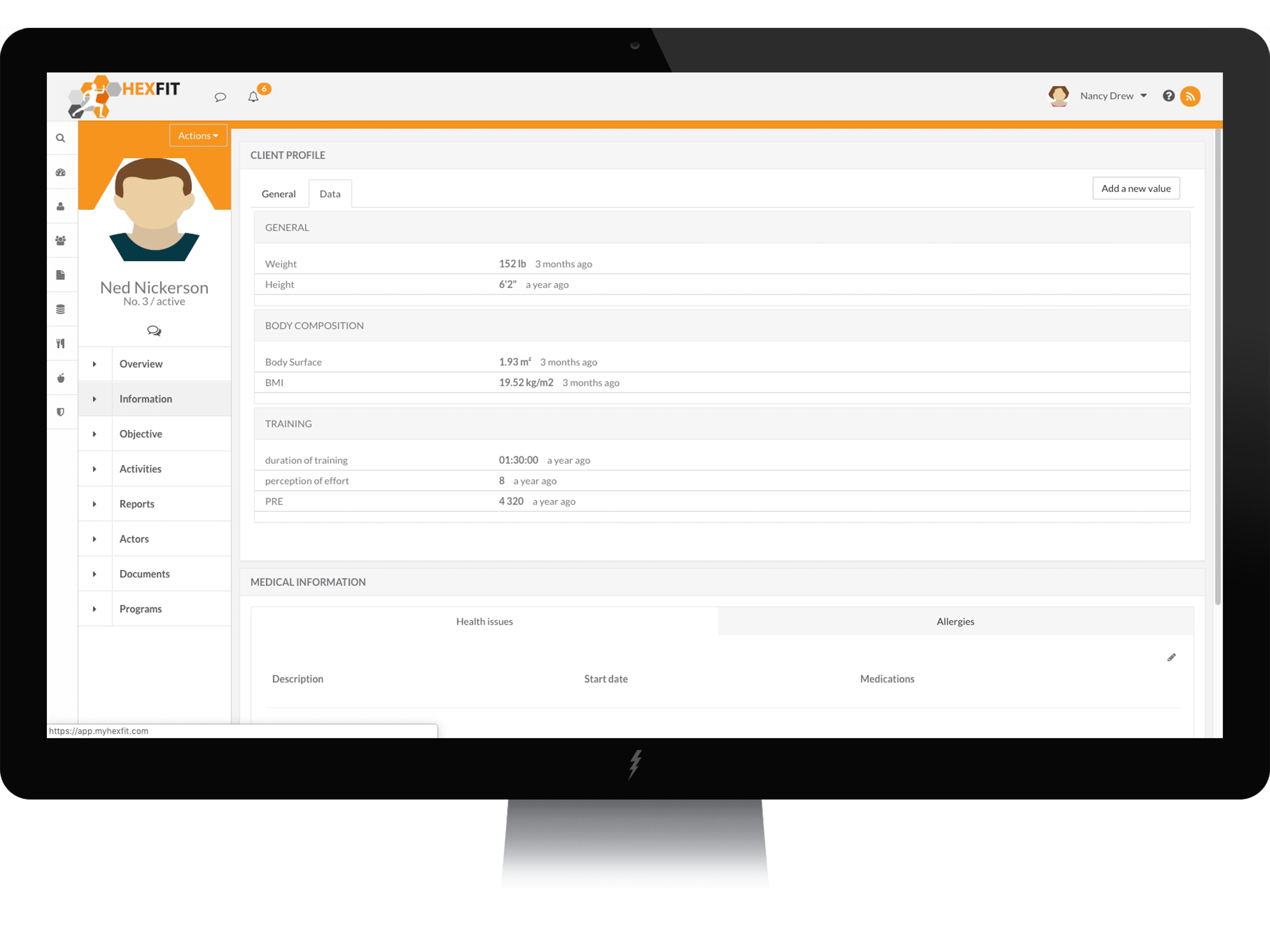 Physical Data
Gather and organize all your clients' measurements
Hexfit, lets you manage all the data you have in mind. No matter what type of customer information you want to save and track over time:
General information (weight, height, basal metabolism, etc.)

Body composition (BMI, % muscular and fat mass, etc.)

Skin folds

Aerobic capacity (VO2max, VMA)

Physical tests (vertical jump, prehension force, RM etc.)

And many other !
Also take advantage of automatic calculations, categorization and all the analysis tools offered.
Request a customized demo just for you!
You Have a Specific Status?
We have funtionalities adapted to each situation!
Clinic
Give your patients unparalleled services by integrating a powerful and professional tool!
Educational Institute
Provide exceptional quality teachings to your students by integrating Hexfit into their academic journey!
Student
Start using a professional software during your studies in order to be well equipped at the end of your schooling!
Sports team
Give unparalleled coaching to your athletes and unlock the full potential of your team!
What They're Saying
Customer Testimonials
Best part of Hexfit I liked is its exercise library. Easy to navigate, easy to keep tack on Volume load.
AWESOME ! Training periodization software for the desired number of weeks - Custom program creation - Possibility to create our own exercises in the software for more customization - Creation of physical evaluations - Sharing of documents - Thank you HEXFIT! When we learn the software, we become so fast that our work of evaluation-planning-creation-adjustments is facilitated. ⭐️????♀️?♂️??
Good software, very complete. helps a lot to keep a good customer record. some small bugs, but it's not enough. I recommend it to all professionals.
Hexfit saves you an average of 3.5 hours* per week!
Only 15 minutes/week would be necessary to have it pay for itself.
Hexfit offers many pricing options to fit your reality. Therefore, when you sign up for free, you have the chance to test our different features and see the prices associated with them.
Aucun engagement nécessaire